China flat die pellet mill
China Flat die pellet mill
INQUIRY
Description
China Flat Die Pellet Mill
1. The flat die pellet mill mainly applicable to crude fiber granulation ,such as: sawdust, rice husk ,cotton stalk, cotton seed hull, weeds and all kinds of crop straw, home wastage, waste plastics and the factory waste, the material of low adhesion rate, difficult to forming.
2. Flat die pellet mill also can be applied to biological fertilizer, organic fertilizer, compound fertilizer, low temperature pelleting.
3. SKJ series pellet mills are produced by special technologies. The pellets made by our pellet mills have high density and high combustion value. The pellet specifications can be adjusted at will through changing dies. The made feed pellets have smooth surface, suitable density and higher curing degree.
4. The machine can make starch pasting, protein coagulating or denaturizing, and improve the nutritional quality of feed pellets, easy to digest and absorb, meanwhile kill the pathogenic germ and parasite.
5. Through the adjustment of die reduction ratio the fertilizer pellets can make the temperature high instantaneously during machine working, reach the standard of low temperature making pellets ( below 60°C), so can make the organic fertilizer, bio-fertilizer, compound fertilizer and other low temperature material pelleting.
Technical Parameter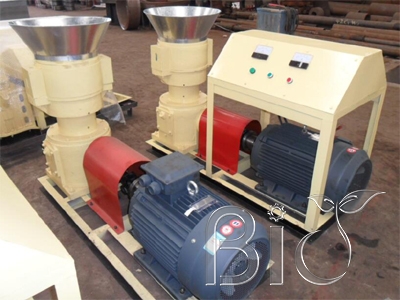 Maybe you like